Automotive Control supply and install front push tow bars most commonly used for launching boats and jet skis into the water, maneuvering caravans or large objects in tight spaces. Fitting is generally quite simple however front bumper removal is often required. Heavy duty front towbars are available to give extra strength for winching and moving.
Here are a few of the reasons why a front mounted towbar could make towing tasks much easier:
See

the road ahead – front push towbars

Towing forwards is far easier than towing backwards, why? For a start you can see where you are going! Plus most front facing towbars are slightly offset giving the driver a clear view in front of them.

Generally you have on locating position (nearside) for the towbar to attach to however you can also have central and offside mounts.
Ford

Ranger wildtrak front push bar
Maneuverability
Maneuverability of your trailer, boat or caravan is far easier when the pivot point (towball) is closer to the turning wheels (front of car).
This greatly increases the reaction time for any turn to be initiated. With a front towbar the turning wheels are very close to the pivot point which gives very quick directional change and much greater control over the position of the trailer or object your maneuvering. Front push towbars – Book Today
Design
Front pusbars are equipped with a standard 50mm tow ball attached to a steel neck.
The steel neck is inserted into the main A-Frame of the towbar via a detachable housing. The A-Frame is bolted to the chassis like a normal towbar.
This allows the neck and ball section to be quick released from the main towbar framework leaving a neat look when not towing!
Front

Push towbar on Range Rover Sport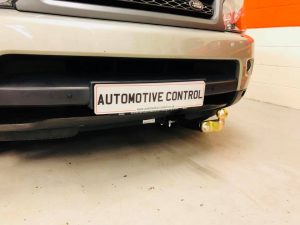 Popular

vehicles for Front facing towing

Jeep Grand Cherokee, Land Rovers, Discovery 2, 3 & 4, Mitsubishi L200, Nissan Navaras, Isuzu Rodeo, Ford Transit, Toyota HiLux, Defender plus many more…